The 7 Most Important Tennessee Motorcycle Laws
Safety should always be your primary concern when operating a motorcycle, for yourself as a rider and for other motorists sharing the road. Whether you're just cruising around Knoxville, Nashville or hitting the national parks around the Smoky Mountains, it's important to understand and follow Tennessee motorcycle laws before heading out.
Here are the most frequently asked questions motorcycle enthusiasts have about the laws in Tennessee when it comes to operating a motorcycle.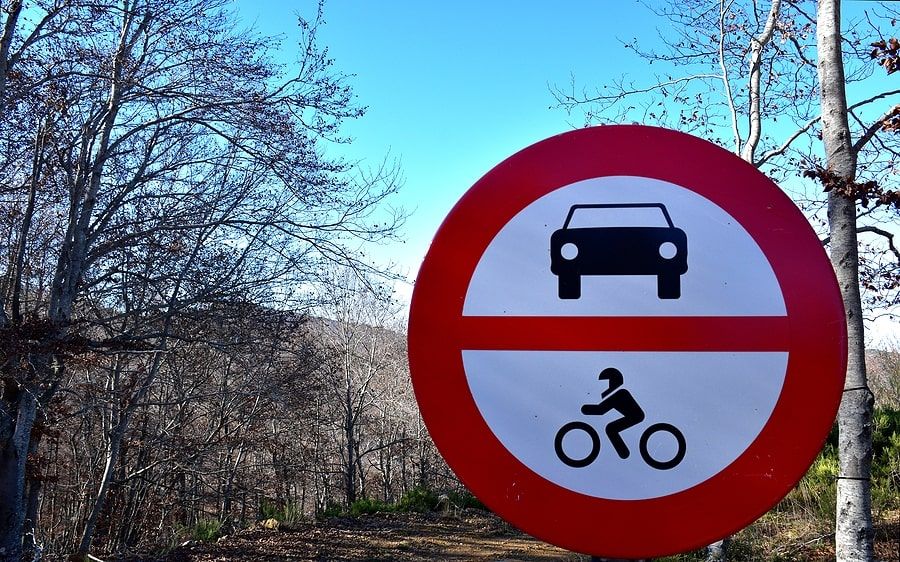 1. Do you have to have motorcycle insurance in Tennessee?
Yes, you must have insurance coverage to legally operate a motorcycle in the state of Tennessee. You will be required to show proof of insurance to register a motorcycle. Riding uninsured could result in fines or a license suspension if you are stopped by police and cannot produce proof of insurance. If you are involved in an accident while riding a motorcycle and do not have insurance, you will have to pay for all vehicle repair and medical costs. Motorcycle owners must also carry a minimum level of insurance to keep their license and operate a vehicle.
2. What age can you get a motorcycle license in Tennessee?
Under Tennessee guidelines, you must be 16 years of age or older to operate a motorcycle. You must have a Class M motorcycle license or motorcycle instruction permit. Riders must pass a motorcycle knowledge and sign test, on-cycle ability skills test and a vision screening. Those 15 years of age need to obtain a special permit to operate a motorcycle with certain restrictions after completing the requirements for a motorcycle license. You should always ride with a current motorcycle license.
3. What happens if I am found to be driving without a motorcycle license in Tennessee?
The penalties can be stiff if you are caught driving without a motorcycle license in Tennessee. You could receive penalty points, a fine, and your motorcycle could be impounded and towed.
4. Is there a motorcycle helmet law in Tennessee?
The Tennessee motorcycle helmet law requires that all motorcyclists and passengers wear a safety helmet. Reports show crashes are on the rise nationally and can be devastating. According to Tennessee motorcycle accident statistics, fatalities hit an all-time high of 168 deaths in 2018. Wearing a helmet isn't just the law; they save lives. According to the Centers for Disease Control and Prevention, helmets reduce the risk of death by 37 percent and head injuries by 69 percent.
Look for a helmet approved by the Department of Transportation and with a label that indicates it complies with the Southern Impact Research Center, the Consumer Product Safety Commission or the Snell Foundation, a not-for-profit dedicated to developing helmet safety standards. Your helmet should feature a reflective component to help other drivers see you at night. If caught riding without a helmet, you could face a ticket and fine of $50 and up to 30 days in jail.
Helmets should be replaced every five years. Inspect your helmet frequently for any cracks or other signs it has been damaged and may compromise your safety. When choosing a helmet, make sure you find one that fits the shape of your head well.
When it comes to protecting yourself, don't focus solely on the helmet. Riders must also wear eye protection unless the motorcycle has a windshield. You should wear sturdy boots, gloves, long durable pants such as jeans and a snug-fitting thick jacket that could help protect you should you be involved in an accident.
5. What are there rules when riding a motorcycle with a passenger?
If you are riding with a passenger, the motorcycle must be equipped with passenger seating and footrests. Remember that other drivers on the road may not always see you, so take extra precautions and make sure that your fellow rider is also wearing an approved helmet and a protective jacket with reflective tape or other fluorescent material to be seen at night.
6. Does my motorcycle require special equipment by law?
Tennessee law requires that motorcycles have both a left- and right-side mirror and a muffler. The daytime use of a headlight is also needed when riding a motorcycle in Tennessee.
You should also check regularly to ensure your headlights, taillights and brake lights are all functioning correctly. Get into the habit of doing a safety inspection before each ride. Properly working turn signals and front and rear brakes are also critical to ensuring your safety and that of other motorists on the road.
7. Is lane splitting legal in Tennessee?
When caught in a traffic jam, rather than stopping behind a car for a prolonged period, it can be tempting to ride between traffic lanes; however, it is illegal to split lanes in Tennessee. The Code indicates that "the operator of a motorcycle shall not overtake and pass in the same lane occupied by the vehicle being overtaken."
Motorcycle riding in Tennessee can be an exhilarating way to relieve stress and discover places you've never ventured before. Taking some time to understand the state's safety and licensing requirements can make it that much more enjoyable.