Ride With Confidence
Take to the roads with the confidence that you have the best team of motorcycle accident lawyers on your side to represent your issues when you need them most.
Eric Von Haessler speaks with motorcycle accident survivor John Nguyen
Your
Motorcycle
Injury Lawyers
Whether we are protecting a downed rider's rights and finances through aggressive representation of a personal injury case, maximizing the value of recovery for a wrecked bike or helping a rider deal with legal matters stemming from a ride gone bad, the lawyers at SteelHorse Law are committed to nothing less than tenacious representation of bikers from all walks of life.
Contact us for a free accident evaluation and consultation or come by our offices. We are located in Georgia, Tennessee, and South Carolina.
Get to know Our Team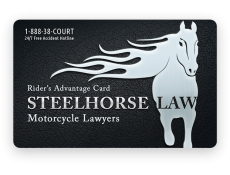 The Rider's Advantage Card
SteelHorse Law has put together our Rider's Advantage Card so you can take advantage of the protections we offer for free. As we expand the program you will be made aware of the new advantages available to you.
Free Legal Advice for All Motorcycle Related Matters.
Free Representation for Motorcycle Damage Claims.
Arrange Community Charity Rides.
Receive your Rider's Advantage Card
We Get Results
$1.9M
Settlement
awarded to victim of motorcycle accident
$489K
Settlement
awarded to client for medical bills
$1M
Settlement
awarded to client at a mediation
We met Brian two years ago when my husband was involved in an automobile accident. We were scared and didn't know how we were going to handle all the stress of his severe injuries, much less dealing with the insurance companies, hospital and Dr bills. Brian assured us that he would take the stress off of us and the attorneys at Steelhorse Law would handle everything. Brian went above and beyond all of our expectations.
- Ginger and David
I highly recommend using SteelHorse Law to represent you in a claim arising from your motorcycle accident. This most recent accident wasn't my first, in fact I had one before, but it was this one I had SteelHorse Law help me with. And the results couldn't have been better. I recall that on my first accident I got worked over by the insurance company, didn't get top dollar to repair my bike, and really didn't get a settlement at all for my injuries.
- Richard Skinner
My name is Arzell Bostick and, by the time my case was all done, was I ever glad I came across and hired Steelhorse Law. I did like a lot of other guys, I saw the flashy commercials, saw fake checks being handled in front of TV and figured I need to go to one of the big, high advertising law firms to handle what I thought was going to be a run of the mill personal injury case. Boy was I wrong!
- Arzell Bostick
On September 22nd 2013 I was involved in an accident while riding my motorcycle. After five days in the hospital and major surgery I was released with a titanium rod placed in my left leg. I had Months of physical therapy before walking again but realized how fortunate I was. I also realized I should be compensated for out of pocket expenses , pain and suffering, lost wages etc. On a Sunday afternoon I went on the website of Steelhorse Law. Within minutes I received a call from a partner in the firm and the next day a personal visit from Brian Caron. I really expected an associate but I got a senior partner.
- Keith Jones
Those Steelhorse boys are the best lawyers in the world.
- Jana Godfrey