Motorcycle Accident Personal Injury Checklist
There's nothing like exploring the open road on the back of a motorcycle. However, doing so comes with its own set of inherent risks. One such risk is the increased chance of severe injury in the event of a motorcycle accident, even if you're not at fault for the collision. When another motorist is to blame for an accident involving a motorcycle, the legal system provides protections to the biker in the form of personal injury law.
With the help of a personal injury attorney who has extensive experience representing plaintiffs in motorcycle injury cases, you can get the compensation that you deserve following an accident. However, there are some things you should do in the immediate aftermath of your accident to strengthen your case and provide your attorney with the foundations of a solid personal injury case. Keep reading to learn more about the things you need to do if you've been in a motorcycle accident that's likely to result in a personal injury claim.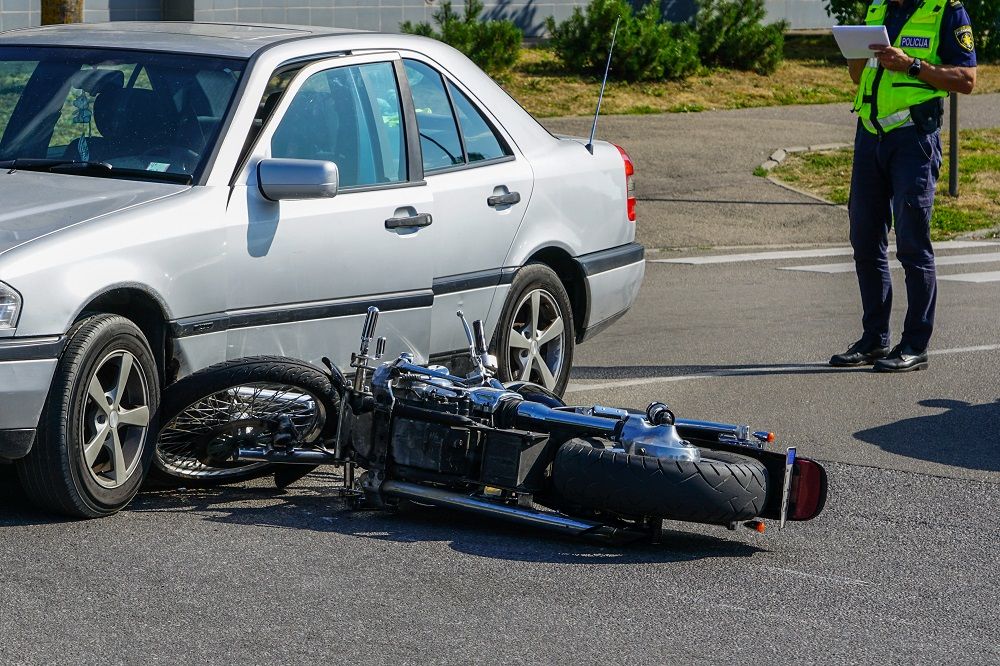 Call 911
It probably goes without saying that you need to call 911 immediately following a motorcycle accident. However, calling 911 is so important to your potential personal injury case that the advice bears repeating. Not only will you potentially need medical treatment on the scene of the accident, but you will also need to have law enforcement document the conditions surrounding the accident. The investigative tools and reports that law enforcement creates as the result of a traffic accident can provide many details to support your case and establish liability. Make sure to call 911 before you do anything else.
Look for Witnesses
Many accidents result in injuries that are severe enough to warrant immediate transport to a hospital. If that's the case, you'll have to assume that the law enforcement officers investigating will gather witness statements because your first concern when injured is to gain medical treatment. However, if you're able, try to locate any potential witnesses who saw the accident and get their contact information. By documenting witnesses and getting their contact info, you'll have a way to get their testimony even if the officers don't include their information in the report.
Snap Photos
There's a saying that a picture is worth a thousand words, and in the wake of a motorcycle accident, that's absolutely true. Photos can document the conditions that were present at the time of the accident as well as provide evidence of faulty traffic signals or obscured road signs. Be sure to photograph all vehicles involved in the accident from afar and get close-up photos of the damage to each vehicle. Do the same with any injuries that resulted from the accident.
Limit Conversations with Others
One mistake that many bikers make in the wake of an accident is talking too much to other people involved in the collision. Oversharing with potential future defendants can undercut your claim and damage your case. Keep it simple when interacting with other drivers. Get the name, contact info, and insurance information of everyone involved. However, don't discuss details of the accident, don't assign blame, and don't say you're sorry or apologize. Doing the latter could be a tacit admission of responsibility that could hurt your case.
Seek Medical Care
Make sure that you seek medical care, even if you don't think your injuries are that severe. You will need documentation of any injuries that stemmed from the accident, and the best way to get those records is by seeking care. Sometimes, you don't even know you're injured in the immediate wake of an accident due to shock or adrenaline. However, an immediate assessment of your health will help your case. Also, not seeking medical treatment can undermine any future claims you may bring as the result of an accident, so get treated for any injuries you may have sustained.
When you're involved in a motorcycle accident stemming from the negligence of another driver, you can be your own best ally by performing these critical steps to preserve evidence, access witnesses, and document your claim. Once you've done these things, contact a motorcycle accident attorney to help assess and manage your claim so that you can get the compensation that's owed to you. Call George Stein Steelhorse Law at (888) 382-6878.