Will a Motorcycle Accident Affect My Auto Insurance?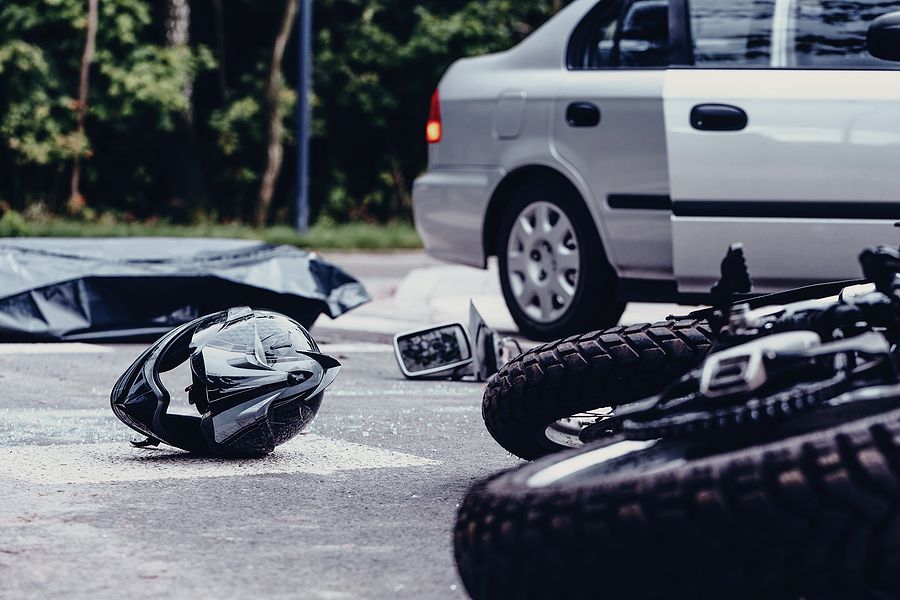 While motorcycles are a source of fun and adventure for those who ride, they can also increase your risk of an accident compared to traditional cars and vehicles. Research suggests that motorcyclists are about 29 times more likely than other vehicle drivers and passengers to become involved in an accident.
This increased risk profile becomes relevant when seeking insurance for your motorcycle. While the average cost for a motorcycle insurance policy is a little more than $700 per year, the cost of these policies can vary widely—especially if you have a motorcycle accident history.
If you've recently suffered a bike accident, you might be concerned about how this crash will increase rates for both your motorcycle insurance and your auto policy. There are many different factors to consider in these calculations—including some steps you can take to control or prevent potential insurance hikes, in some cases.
Read on to learn more about the impact a single accident might have on your insurance coverage.
What to Consider When Filing a Motorcycle Insurance Claim
Whether an accident affects your insurance policy will depend, first and foremost, on whether you file a claim related to that accident. Claims are typically filed to obtain financial support for high accident costs—particularly damage to your vehicle and any medical bills you may incur.
In some cases, your incurred costs may not be high enough to justify the potential premium hike in exchange for insurance payouts—particularly once your deductible is factored in. Some motorcyclists may prefer to handle these expenses out-of-pocket.
If you believe you aren't at fault in an accident, and that the other party's insurer should compensate you for your expenses, it's still worth your time to file a claim with your insurance company. This claim will increase documentation of the accident. Your insurance company may also advocate for you if disputes arise over whether you or the other party are at fault in the crash.
Keep in mind, though, that filing a claim could raise the risk of an insurance premium hike in the future.
The Motorcycle Insurance Claim Process: What to Expect
If you decide to file an insurance claim over your bike accident, you will be starting a process no different than the claims processing used for other types of vehicle accidents.
First, you will file a claim by providing key personal and accident info either over the phone or through an online form. The insurance company may request supplemental information such as photos from the accident and the names and contact information of other parties involved.
While the insurance company is processing your claim, you will need to get quotes for the repair of your motorcycle, if claiming a payout for vehicle damage. If you are facing medical bills, document all of your bills and provide them to your insurance company.
If your claim is approved, you can then submit receipts for any payments you have made to be reimbursed for those costs. Or, if you have been waiting on insurance approval to get your vehicle repaired, you can bring the vehicle into an auto shop to have those repairs performed.
Common Motorcycle Insurance Claim Questions
Still, have questions about the insurance claim process and how it might affect your insurance bills going forward? Here are some answers to common motorcyclist questions:
How long does the insurance claim process last? This process is entirely dependent on your insurance company, as well as the complexity of your case. While some insurers may dispense funds within days of receiving your claim, complex cases may take weeks or even months for processing to be finished. Ask your insurance agent for updates on these timelines as the process moves forward.
If I'm not at fault, do I still have to worry about my premium going up? Although this doesn't happen in every situation, your insurance company may still increase your insurance rate if they consider your accident involvement to be a sign of an increased risk profile—even if you're

legally found not at fault

for the crash.
If I don't like the coverage amount offered, can I negotiate for more? Typically, insurance companies will not negotiate on the amount of compensation you receive. If you discover new evidence of covered costs that aren't a part of the insurance company's original assessment, you can ask them to include this information and revise your payout accordingly.
Who should I call first: my insurance company or my attorney? While it's important to promptly notify your insurance company of an accident, it's always smart to consult your attorney before taking this action. Your attorney may have suggestions for how to describe and characterize the accident, which could benefit your efforts to be compensated down the road.
How a Bike Accident Lawyer Could Lower Your Motorcycle Insurance Rate
Given the risk of an accident causing an increase to your motorcycle insurance premium—even in cases where you are found not at fault—it's crucial that you connect with an attorney who can advocate on your behalf to insurance companies and other involved parties.
A bike accident attorney will be able to defend you against claims that you were at fault in the accident, which can drastically reduce the risk of the accident increasing your insurance premiums. Even if the insurance company wants to raise your premium, your lawyer may be able to negotiate on your behalf.
An attorney can also make sure you are properly compensated for any damages you suffered in the accident. The dollar amount of these damages can far exceed the increased insurance premium you might be forced to pay, so a lawyer's advocacy is your best option to protect your finances and be fairly compensated for what you have gone through.
If you've suffered a bike accident but don't have an attorney yet, there's no time to waste. Contact a motorcycle accident attorney today for a free consultation.