Riding Your Motorcycle in the Winter: Tips and Tricks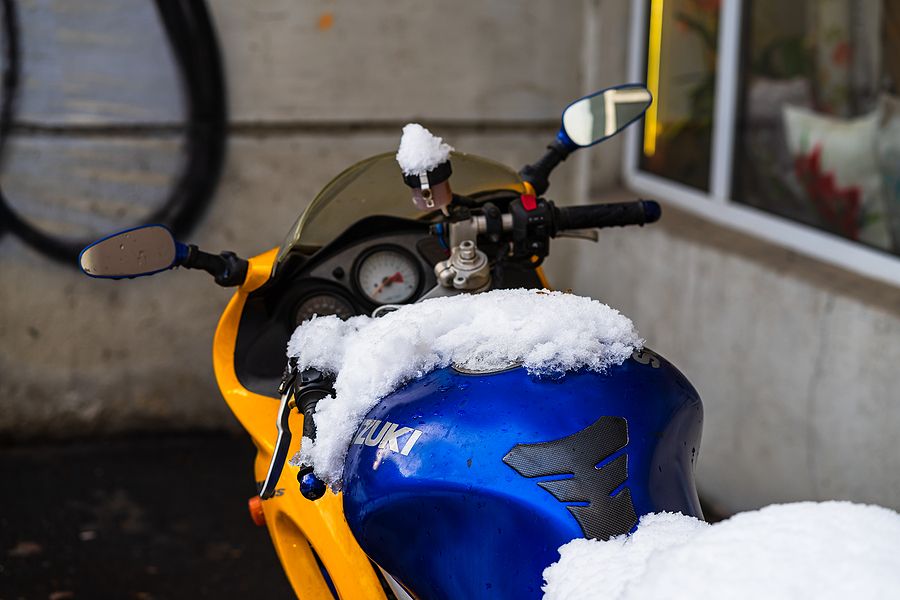 When it comes to riding during all four seasons, preparation is key. While the winter months in Georgia can offer mild temperatures and excellent riding weather, every motorcyclist must be prepared to face potential seasonal hazards such as wind, snow, freezing temps, and icy roads.
For some riders, these complications are enough to force their bikes into storage until warmer weather arrives. But if you're determined to stay on the road throughout the winter months, it's important to educate yourself on the potential risks you might face—and to make sure you're taking appropriate steps to reduce the risk of a winter riding accident.
The Risks of Riding Your Bike in the Winter
Before you go riding in the winter, it's important to understand what sort of risks come with winter weather. As a motorcyclist, you should be prepared for the following conditions and hazards:
Extreme wind chill when riding. The harsh wind chills brought by certain winter weather will be even more severe and stinging when riding a motorcycle at 40 miles per hour.
Reduced traction on slippery roads. Even with snow tires on your motorcycle, the handling and tracking of a two-wheel vehicle could put you at an increased risk of slipping and falling off of your bike.
Sudden changes in weather conditions. Checking the weather before a motorcycle ride is a good practice, but it doesn't guarantee that conditions won't change.
Reduced visibility in snow. Severe snow may cause you to become snowblind and force you to the side of the road.
Cold exposure if you become stranded or are involved in an accident. If you're struck out in the elements, you could face a risk of hypothermia or other health hazards.
Safety Tips When Riding a Motorcycle in Winter
Although the hazards posed by winter riding need to be taken seriously, proper safety precautions can go a long way toward reducing your risk of an accident and improving your overall comfort. Before heading out on your motorcycle, remind yourself of the following safety tips:
Dress in layers. Base thermal layers and wind-resistant outer layers will be essential to staying warm on your ride.
Check your tire pressure before you ride. Lower temperatures can

reduce your tire pressure

, which in turn reduces the handling capabilities of your tires.
Carry emergency contact information on your person. If you suffer an accident or need other assistance, it will be helpful to have contact info for your insurance company, a towing company,

and your attorney available while on the road

.

Give yourself more time to brake. With road conditions often less-than-ideal, you should increase the distance you give between the vehicles ahead of you, and start braking for stop signs earlier.
Be wary of salted roadways. While salt breaks up the ice that can cause your bike to slip,

salt granules can also reduce your traction

and put you at risk of a crash.
Avoid desolate areas with limited traffic. If you end up sliding off the road or becoming stranded, you'll want to be somewhere that is regularly trafficked by passersby who can stop to help.
What Winter Motorcycle Riding Gear Do You Need?
Given the extreme temperatures and wind chills, you might face while riding, specialized winter clothing and gear are essential. Here's a guide to the necessary motorcycle winter riding apparel you'll need to own if you want to ride safely in the winter:
An insulated helmet. While you might not need to buy a special helmet just for the winter, your helmet of choice should give you the option of closing vents to contain as much heat as possible.
Neck gaiter. An exposed neck can suffer serious windburn when riding in the open air. A neck gaiter protects and insulates this exposed skin on your winter ride.
A winter riding jacket. Spring for a jacket that offers more insulation to protect you from the frigid cold. Want to go all-out? Consider a higher-end jacket

that offers built-in heating

to keep you warm in any weather.
Insulated leather gloves. You may want to wear a thin thermal base layer gloves underneath your winter riding gloves if your motorcycle leaves your hands particularly exposed to the wind.
Insulated pants. In addition to being waterproof, these specialty riding pants will also conserve your heat and shield you from the wind.
Severe Winter Weather: When to Park Your Bike
Winter riding can be a thrilling way to get outside and make the most of this cold season. But it's still important to use discretion when planning your rides and taking risks on the road.
Consider parking your bike and postponing your riding plans if the following situations develop:
A winter storm is rolling in.
Severe weather alerts are being broadcast in your area.
Driving conditions are causing accidents for other vehicles.
You're missing pieces of protective winter gear.
You haven't had time to check air pressure, fluids, and other basic maintenance needs.
If you do have the misfortune of suffering an accident, it's important to contact a personal injury attorney as soon as possible. Carry this information with you at all times, and make sure you keep a phone with you so that if accidents or other emergencies do occur, you'll have a lifeline to connect with legal counsel and other support to help you navigate whatever challenges you may face.