Why Do I Need a Lawyer for a Motorcycle Accident?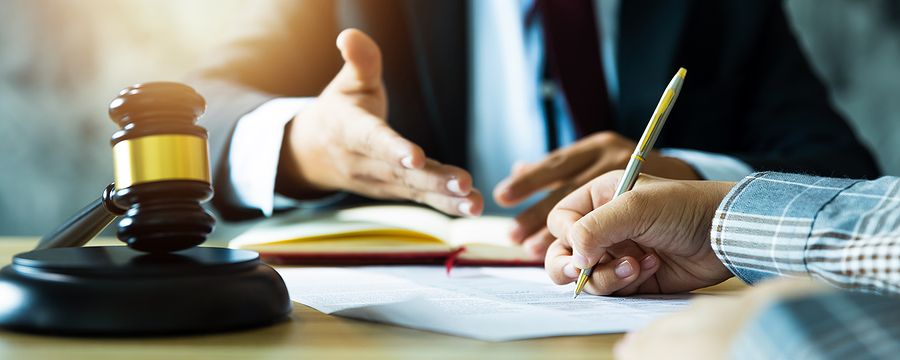 When you've been involved in a motorcycle accident as either a driver or passenger, your experience can range from a minor collision or crash to a serious accident leading to hospitalization and long-term consequences.
But regardless of the severity of your crash, or whether you were driving the motorcycle or merely a bystander, there's one thing you need to do in the aftermath of the crash: hire a motorcycle accident lawyer to advocate on your behalf.
All too often, individuals involved in a motorcycle accident assume the situation is cut-and-dried, or that they've escaped with no major injuries and therefore no reason to seek out legal counsel. But the importance of having a lawyer on your side may not be evident right away—and by the time you figure it out, you might be scrambling to catch up to other legal proceedings taking place—or to take legal action before your statute of limitations runs out.
Don't let this costly mistake deny you the legal advocacy and potential compensation you believe you deserve. Read on for more insights into the importance of working with a trusted motorcycle accident lawyer.
When Do I Need a Motorcycle Accident Attorney?
Fortunately, this simple question has a simple answer. Any time you are involved in a motorcycle accident, you should seek out consultation with an accident lawyer who specializes in motorcycle cases.
This is true whether you are a driver or a passenger, and even if you suffer no significant injuries or other direct losses. A motorcycle accident attorney can be a valued resource if other legal actions are taken by other individuals involved in the accident. Legal representation may also be useful if certain complications or consequences of the accident—such as the delayed onset of injuries—develop long after the accident occurred.
Even if you're skeptical of the importance of getting an attorney, many will offer a free consultation that can help you get some quick answers to key questions you may have. It can also help an attorney evaluate your case to determine whether their services may be of use to you.
What Are the Benefits of Working With a Lawyer?
When you've suffered a motorcycle accident, a lawyer representing your case can offer the following benefits:
Support in gathering documentation and evidence around your accident. If you need to build a case or support a personal injury claim, evidence gathering is a key stage of this process.
Assistance in making a case for another party's liability. If you require compensation for injuries or other losses resulting from the accident, a lawyer will be instrumental in helping you make the case that the other party is liable.
Quick access to legal counsel if you are accused of inappropriate or unlawful actions. If another party accuses you of breaking driving laws and causing the accident, for example, a lawyer can help defend you against this claim, and also steer you away from accidentally admitting guilt.
Guidance throughout the settlement negotiation process. If you seek out a settlement for your personal injury, a lawyer can bring

their own negotiation experience

into this process and help you secure the best deal possible.
Finding the Best Motorcycle Attorney: Tips to Guide Your Search
If you've never hired a lawyer before—much less a personal injury lawyer—your options may be overwhelming. But hiring the right attorney can play a crucial role in setting yourself up for success in securing a settlement for your injury claim, which means this process shouldn't be taken lightly.
To help identify the best attorney for your specific case and needs, consider asking the following questions:
Does the attorney specialize in motorcycle accident representation? If not, that law office is not the right fit for your case.
Can the attorney provide testimonials from past clients and success stories? Seek out proof that the attorney has

experience in personal injury cases

related to vehicles and/or motorcycles.
Does your attorney get paid whether you win or lose? Many personal injury lawyers earn most of their revenue only after they've secured a settlement for their clients. If the law office wants payment up-front, they may have less incentive to advocate for the best possible deal.

Has the attorney represented a case similar to yours? If your case features unique circumstances, find out if the attorneys in question have dealt with similar situations in the past.
Will the attorney handle your case personally, or will they farm it out to hired help? Stay away from attorneys that

take you on as a client

but pass you off to a lawyer working underneath them.

Does the attorney's history demonstrate a willingness to take attorneys to trial? If the attorney isn't prepared to take cases to trial, they might not advocate hard enough to get the best deal, even if that requires going the distance in court.
How Do I Find a Motorcycle Accident Attorney Near Me?
Ready to start your search for a motorcycle accident attorney in Atlanta or surrounding areas? The first place to start is with friends or family who has worked with personal injury attorneys in the past. Their experiences can offer a lot of insight into the type of service you can expect from that law office.
A simple Google search can also help you pull up a list of local attorneys specializing in personal injury law. Keep an eye out for law firms that feature testimonials and other information on their main website—this information can streamline the research process and help you identify attorneys eager to prove themselves to potential clients.
If you need a motorcycle accident attorney, don't wait any longer to start your search. Contact an attorney's office today to set up a free consultation.