Motorcycle Helmet Laws in Georgia
The temperatures are rising, and the road is calling. But before you pull the motorcycle out of the garage or storage, you should take steps to make sure you prepared to ride safely. In Georgia, like most states, helmets are required by law while Illinois, Iowa and New Hampshire do not require motorcycle helmets.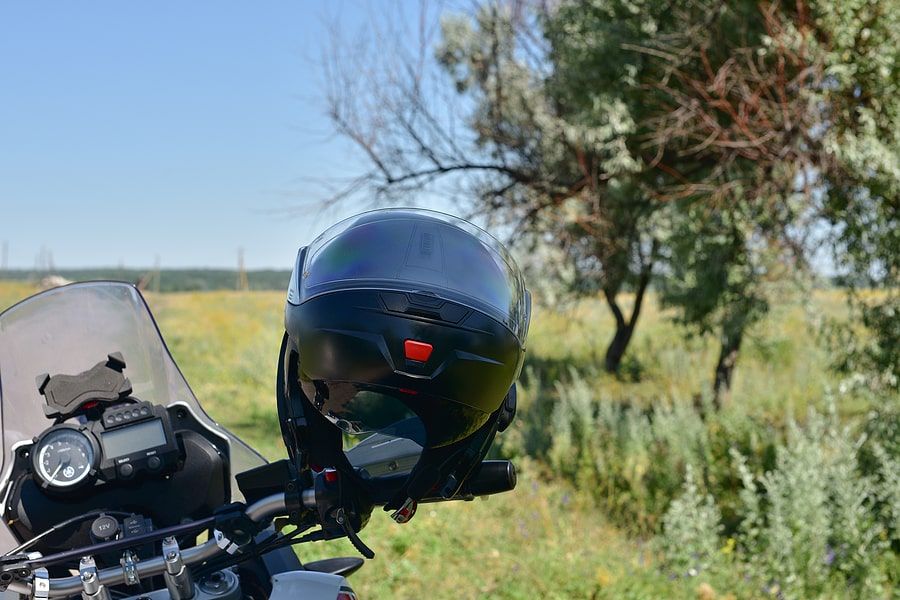 1.

Why are helmet laws required?
According to the National Highway Traffic Safety Administration accidents involving motorcycles represent a disproportionate amount of all traffic accident deaths. According to the Center for Disease Control and Prevention (CDC) one of the most effective ways to prevent injuries like head injuries on the motorcycle is wearing a helmet. Motorcycle injury statistics from the CDC shows that helmets reduce the risk of death by 37% and the risk of head injury by 69%. As a result, most states require motorcycle helmets by law.
2.

Which states require motorcycle helmets?
Most states have some type of regulation requiring the use of motorcycle helmets. In their review of motorcycle helmet laws by state, the Insurance Institute for Highway Safety reports that Washington, DC, and 18 states require the use of helmets for all riders while 29 states have laws that only apply to certain riders. Illinois, Iowa, and New Hampshire have no helmet requirements at all.
3.
Georgia motorcycle helmet law.
The State of Georgia explicitly requires the use of a helmet, and in some cases, protective eyewear when riding a motorcycle. As a result, if you are a new rider or an experienced motorcyclist visiting Georgia and wondering if Georgia has a motorcycle helmet law, the simple answer is, yes.

According to Georgia motorcycle laws, the operator of a motorcycle must wear protective headgear which complies with standards established by the commissioner of public safety-which follows the federal safety requirements. Also, Georgia law specifically requires wearing eye protection when riding a motorcycle without a windshield that is also approved by the commissioner of public safety.

There are a few exceptions to these safety requirements. Riders who are within an enclosed cab or other motorized cart and operators of a three-wheeled motorcycle used only for agricultural purposes are exempt from these helmet and eyewear regulations.
4.
What happens if I get a ticket for riding a motorcycle without a helmet?
Georgia motorcycle laws require that all motorcycle riders are to wear helmets and protective eyewear to legally operate motorcycles in the state. Riding a motorcycle without this protective equipment is a serious traffic offense that can result in either a fine, points assessed to your driver's license, jail time or all three! If found guilty of operating your motorcycle without a helmet you could receive a fine of up to $1,000 and other charges and fees depending on the county where the ticket is given.
If you are charged with riding a motorcycle without a helmet or protective eyewear, do not attempt to decipher the facts and apply the law on your own. Contact your local motorcycle lawyer to get assistance.
5. What happens if I am involved in an accident?
Reports show that motorcycle accidents are on the rise. As with any automobile accident, the consequences for all involved are potentially life-altering and devastating. If an accident while riding a motorcycle, the liability or fault for the accident will most likely be attributed to the negligent party. Therefore, any medical injuries or damages to the personal property of everyone involved in the accident will be the responsibility of that person. An expert familiar with the nuances of these complex issues is a great resource to consult in these situations.
As with most situations, there are exceptions, a person maybe able to reduce their liability by showing that the accident was caused by another party. This will most likely involve proving that the car that hit a motorcycle rider was changing lanes, weaving, or was distracted while operating their vehicle by either texting, changing the radio station, "rubbernecking" or some other negligent operation.
If you are in an accident contact your local motorcycle personal injury lawyer in Atlanta to get assistance. A professional familiar with the nuances of these complex issues is a great resource to consult in these situations and can help you determine damages, liability, and other factors relevant to the resolution of your matter.